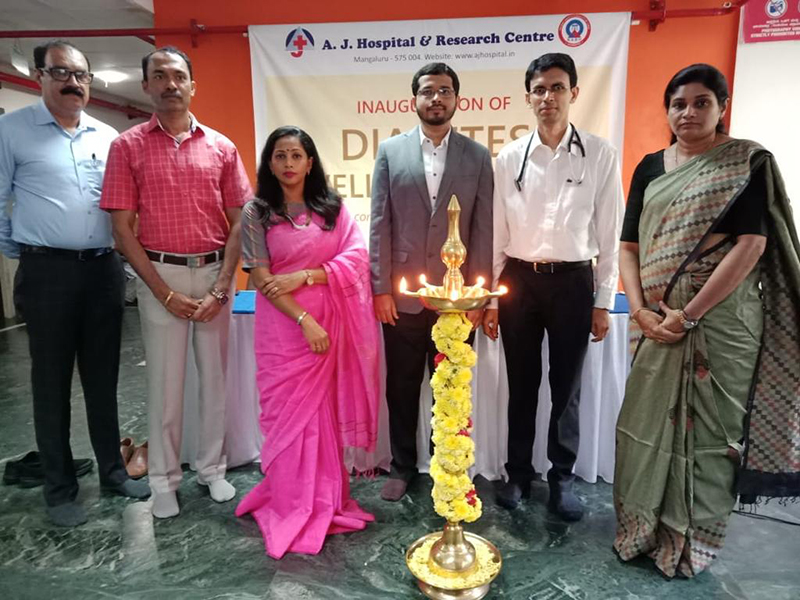 Diabetes is the major epidemic, non-communicable disease, affecting a large number of Indian population. India is known as the diabetes capital of the world.
Though the complications are very much preventable, people neglect the diabetic status and do not monitor as required. In order to improve the status of the diabetic people of Dakshina Kannada and surrounding areas, A J Hospital is launching "Diabetes Wellness Clinic" with emphasis on treating diabetes holistically.
The Diabetes Wellness Clinic is a place for comprehensive management of diabetes, which will help patients to have better quality of health, managed by an expert team of
Endocrinologists
Diabetes Educators
Dietitians
Physiotherapists
Yoga Therapists
Backed by state of the art equipment and technology.
The Diabetes Wellness Clinic was launched on 16/11/2019. Dr. Amitha Marla, Director Medical Administration, Dr. Ganesh H K, Consultant Endocrinologist, Dr. Kishan Delampady, Consultant Endocrinologist, Dr. Shilpa Mulki, Consultant Physician, Mr. Shivaprasad Shetty, Marketing Consultant, Mr. Laxmish Rai, Chief Operating
Officer, Doctors, staff and students were present.
Dr. Shilpa Mulki, Dr. Ganesh H K and Dr. Kishan Delampady addressed the gathering and explained importance of managing diabetes.
The Highlights of the clinic include Diabetic Care packages with self-care instructions, at an affordable price. On this occasion, hospital is offering these packages at 25% from 18/11/2019 to 30/11/2019.
A J Hospital has always been in the forefront upgrading facilities to meet the demands of healthcare needs and with the launch of Diabetes Wellness Clinic, takes a leap forward in improving health of the diabetic population. For further details, please contact 8904001123.